Nothing adds that special touch of magic to a wedding like a good wedding DJ can. Make your wedding day even more memorable with the perfect music, guaranteed to get your guests dancing.
Choosing a wedding DJ is probably one of the most significant decisions you will make when planning your wedding. To help you make the right choice, I have written THIS GUIDE that details what to look for when hiring a wedding DJ.
What You Can Expect With My Wedding DJ Services
As a wedding DJ, my primary role is to play music and emcee the events at a wedding reception. My goal is to keep the party going and ensure that guests are having a good time.
Before the big day, I meet with the couple getting married to discuss their music preferences and the overall flow of the reception. This includes discussing their must-play and do-not-play lists, as well as any special requests they may have. I also work with the couple to create a timeline for the reception, outlining when important events will take place.
On the day of the wedding, I arrive early (no later than 1.5 hours before the event starts) to set up my equipment and perform a sound check. This ensures that the music will be audible and of good quality throughout the reception. I also use this time to meet with the wedding planner and other vendors to coordinate the events of the evening.
During the reception, I play a variety of music to keep guests entertained and on the dance floor. I also act as the emcee, announcing important events and keeping the reception moving along according to the timeline. This may include introducing the wedding party, making announcements, and encouraging guests to participate in group dances.
In addition to playing music and emceeing, I also provide additional services like dance floor lighting, additional speakers and subwoofers, generators, etc. I also provide a microphone for speeches or other announcements.
As a wedding DJ, I play a crucial role in ensuring that a couple's reception is a fun and memorable experience. I provide the soundtrack to their special day and help to keep the party going until the end of the night.
Included Wedding DJ Equipment
When you hire me to DJ your wedding, all of the following is included in your quote.
Sound System to include my DJ gear and two 15″ speakers. This setup is perfect for smaller venues such as The DEC and the 1st Street Barn in Idaho Falls.
Emcee Services that include a wireless microphone.
Free setup and teardown time.
Table and tablecloth.
Free consultation.
Pop-up canopy (for outdoor events only).
My Wedding DJ Rates
My hourly rate for Weddings and Receptions is $275 per hour with a four (4) hour minimum.
Wedding Music Mashups
If you would like a special musical mashup created for your processional, recessional, and/or wedding dance, I can help make that happen. My fee for wedding music mashups starts at $50.
Wedding DJ Service Area
I serve all of eastern Idaho and western Wyoming. I do charge a travel fee for any event that is more than 30 minutes outside of Idaho Falls, ID. My travel fee is $40 per hour of round trip travel and the first hour is always free.
If you would like to learn more about my wedding DJ services, please do not hesitate to give me a call at (208) 881-1466.
If you are ready to book my wedding DJ services, please use the form below to get me the details I need to give you an accurate quote.
Testimonials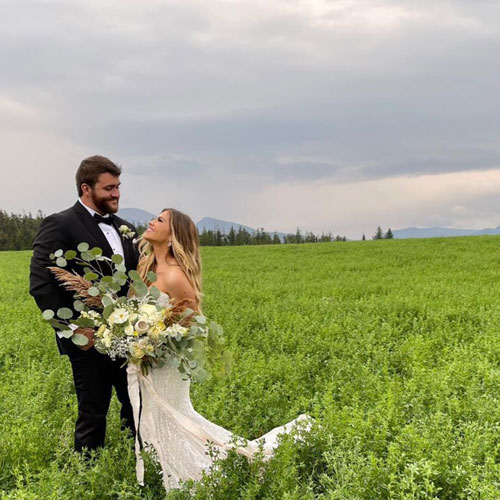 Chad… How do we use words to thank you for your Magic? This DJ made one of the most important days literally come to life – the dream my Daughter and Son in Law and family always dreamt of. The Music ? Made A Real Love Story Show Itself like A Movie!! Chad made The Crowd Into A Glorious Winged Dancing Machine! Then it was time to settle, Chad's talent Turned the music like the Owl Of Sleep Comes Out To Coax You to The Tree Of Dreams! Thank you Chad and as Lynard Skynard Sang "Turn It Up" ? ? ?

Love and appreciation – Evans, Lundin family… Teton Valley and Tetonians!⛰